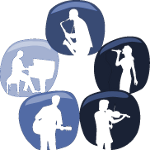 Description:
Just to see what happens when you create your own music band.
The band appears on "welcome" page (beyond newest created bands), and on "Music bands" page.
You can choose a band name, a band logo, and you can add members in it.
You also can specify if other musicians are requested in your band, and check the instruments needed in the list.
You can add/remove members to your band in tab "Group".
At the bottom of your band's page, you will see all the covers created within the band (use link "post a band cover" in "My space" tab if you want to post a cover of your band).
Remember that only the band creator is able to post videos.
Music styles:
French music
International music
Soundtracks, cinema, TV
Classical
Instruments played:
Piano
Violin
Cello
Keyboard
Flute